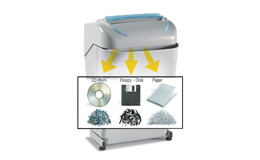 Las Destructoras oficina de la serie BB Kobra 240 incluye una gran variedad de modelos con diferentes características. Al lado de una fotocopiadora o en una oficina de gran movimiento de papel, la BB Kobra 240 puede destruir la gran mayoría del trabajo gracias a su potente motor, a su construcción y a sus inmejorables características con engranajes de acero, cadena de transmisión, cuchillas endurecidas y sistema de compresión del papel. En funcion del Nivel de Seguridad las destructora oficina de la serie kobra 240 destruirán mas o menos hojas asi como distintos soportes magnéticos. Están disponibles en todos los niveles de seguridad segun la Normativa DIN 66399:
240 SS4 Tiras de 3,9 mm, Nivel P-2 , 26 hojas 240 SS5 Tiras de 5,8 mm, Nivel P-2, 29 hojas
Price: 675,00 € / Precio oferta: 178,00 €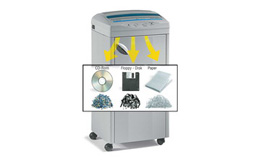 La Destructora de papel BB KOBRA 260 S4 es sin duda una de los modelos de mas exito de la gama, con miles de unidades vendidas, con unas prestaciones realmente excepcionales y un corte en Tiras de Nivel de Seguridad 2 de 3.8 mm. El ancho de 260 mm de entrada la permite destruir papel de ordenador comodamente. La Destructora 260 S4 es una gran Destructora que soporta gran cantidad de trabajo y que está siendo utilizada y homologada por gran cantidad de entidades por su grandes caracteristicas y su inmejorable relación precio/calidad. Esta Trituradora de papel MULTIMEDIA le permitira destruir gran cantidad de papel a la vez, asi como Disquetes, Cds y Tarjetas de Credito.
Price: 976,00 € / Precio oferta: 289,00 €
/ Counters Banknotes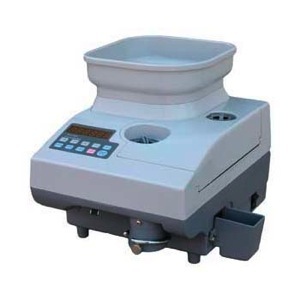 The Contadora currency BB 3300 is compact and easy to use, ideal for Banking and any company with a high volume of cash in coins. It's really versatile to be valid to count virtually any existing currency in the world. It is a robust counter that allows us to count coins at speed up to 2,300 per minute and has a high capacity magazine. Account, select batch, and displays on the screen the total number of coins and broken non valid, all in one operation.
Price: 767,00 € / Price range: € 592.00